'Uala 'Ulu Salad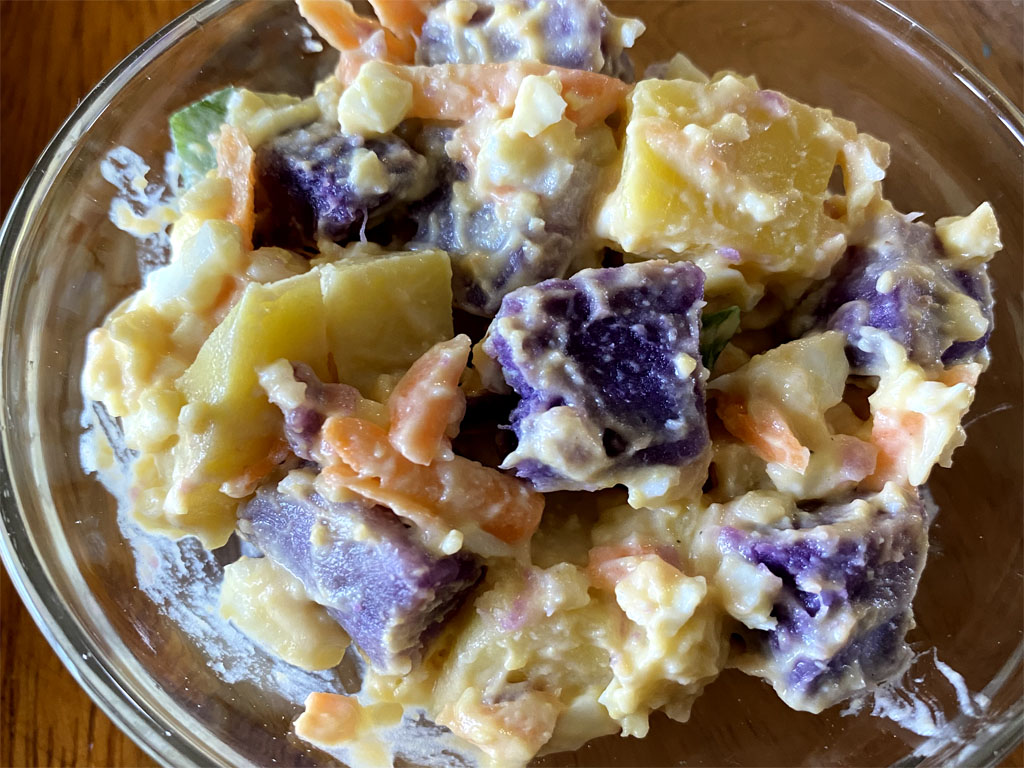 Ingredients
1 1/2

cups

'Ulu, peeled, cooked

1 1/2

cups

'Uala, peeled, cooked

3

Eggs, hard boiled

3/4

cup

Mayonnaise

2

tbsp

Dijon mustard

2

tbsp

Green onion

6

tbsp

Carrot, shredded

1/2

tsp

Salt

1/2

tsp

Pepper
Instructions
Wash your ʻuala and ʻulu very well. Depending on the size of your ʻuala, cut them in half. *You want them to be about the same size so they cook evenly. Layout evenly in a large baking dish.

Quarter your ʻulu and remove the core. Cut down into large consistent chunks and layout evenly in a large baking dish.

Steam both ʻulu and ʻuala for approx. 20-30 minutes or until you can pierce through with a fork.

Meanwhile, in a large pot of boiling water boil your eggs for approx. 7 minutes. Remove from water, allow to cool, then peel, and add to a large mixing bowl.

Crumble the eggs then add mayonnaise, mustard, green onion, shredded carrot, salt, and pepper, mix well. Store in fridge until ready to prepare salad.

When ʻulu and ʻuala are finished cooking, remove from the oven. When cool enough to handle, remove peels and cut into keiki bite sized pieces.

Measure and when completely cool, combine ʻulu/ʻuala mixture with egg/mayo mixture until well incorporated.
Notes
This snack also makes a great side dish.