Four-Seeded Salmon with Kabocha Miso Risotto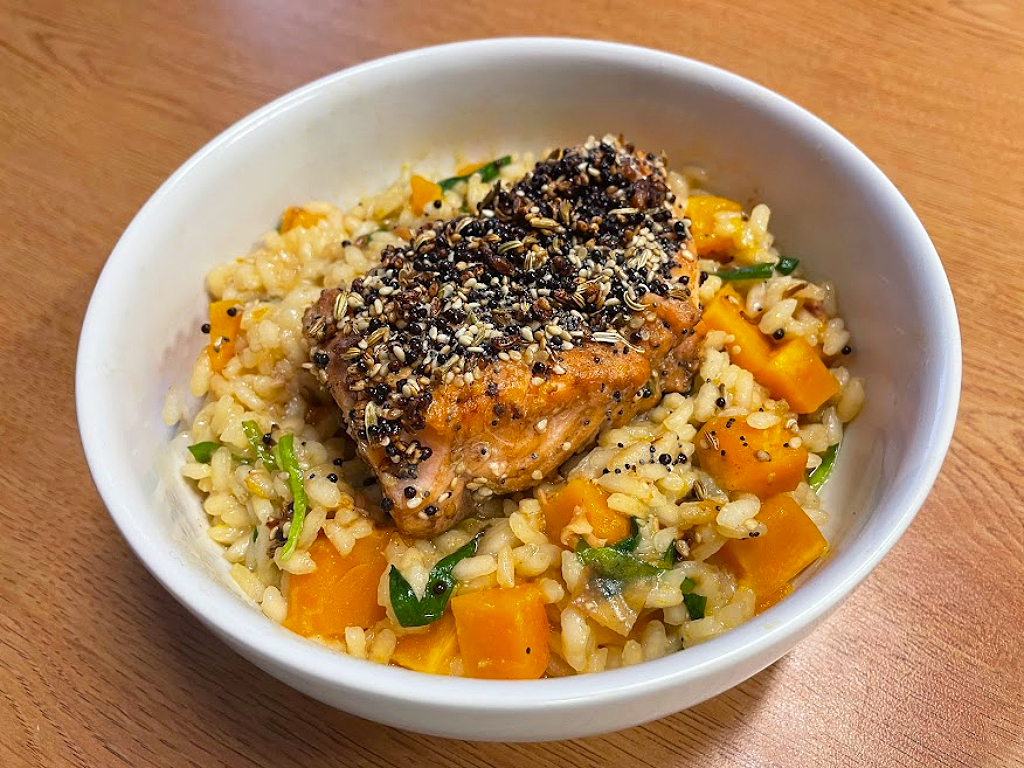 Ingredients
1

lb

salmon fillet - cut into 4 pieces

2

tsp

soy sauce

2

tbsp

sesame seeds

½

tsp

black mustard seeds

1

tsp

poppy seeds

½

tsp

fennel seeds

2

tsp

vegetable oil
Kabocha Miso Risotto
4

cups

Japanese stock (see recipe below)

8

oz

kabocha pumpkin - diced ½ inch cube (about 2 cups)

1-2

cups

hot water - (as needed)

1

tsp

vegetable oil

¾

cup

arborio rice

¼

cup

sake

¼

cup

garlic chives – diced

1

tbsp

miso, white - (dissolved in ¼ cup cold water)
Japanese Stock (makes about 4 cups)
4½

cups

water

1

piece

dashi konbu, 6" x 7" (about .3 oz), cut in half

1

piece

ginger - 2" x 1" (slice and crush slightly)

2

dried shiitake mushrooms

¼

tsp

grated lemon zest

4

packets

shaved bonito flakes (1 oz packets)
Instructions
Marinate salmon in soy sauce 10 minutes.

Mix seeds together, pour onto a plate.

Dredge one side of each salmon fillet in seed mix, thoroughly coating one side.

Heat oil in pan on medium, place salmon seed side down in hot pan.

Cook until seeds start to brown (about 3 minutes) then, flip over.

Pour marinating juices into the pan and cook until juices evaporate.

Continue to cook until brown and just cooked through (4-8 minutes).
Kabocha Miso Risotto
Cook kabocha in stock until just tender, strain reserving stock and kabocha separately.

Heat reserved stock until hot but not boiling.

In a large heavy bottomed sauté pan, sauté rice in vegetable oil, 1 minute.

Add sake to pan, stirring.

Add stock ½ cup at a time, stirring after each addition until absorbed.

If rice is still not cooked, add hot water as needed, ½ cup at a time.

Rice is done when grains are a little firm and sauce is creamy (about 20-30 minutes).

Add garlic chives and kabocha.

Remove pan from heat and stir in miso and water. Serve immediately.
Japanese Stock
Bring water, konbu, ginger, shiitake mushrooms and lemon zest to a boil

Remove from heat, add bonito flakes, cover and let steep 45 minutes.

Strain soup, squeezing as much liquid out of solids as possible.

Discard solids, cool stock and store in refrigerator or freeze for later use.
Notes
If need to reduce sodium further, substitute with reduced sodium soy sauce.
This dish is slightly higher in cholesterol which comes from the oil in the salmon.Remember that all foods have varying amounts of nutrients. Some we try to limit such as sodium, cholesterol, and saturated fats and other we try to increase in our diet such as fiber, monounsaturated (olive and canola) oils, and polyunsaturated (flax products, fish) oils which contains other beneficial nutrients such as the omega-3 fats in the salmon fish oil.
Nutrition Facts
Four-Seeded Salmon with Kabocha Miso Risotto
Amount per Serving
% Daily Value*
* Percent Daily Values are based on a 2000 calorie diet.