Beef Lu'au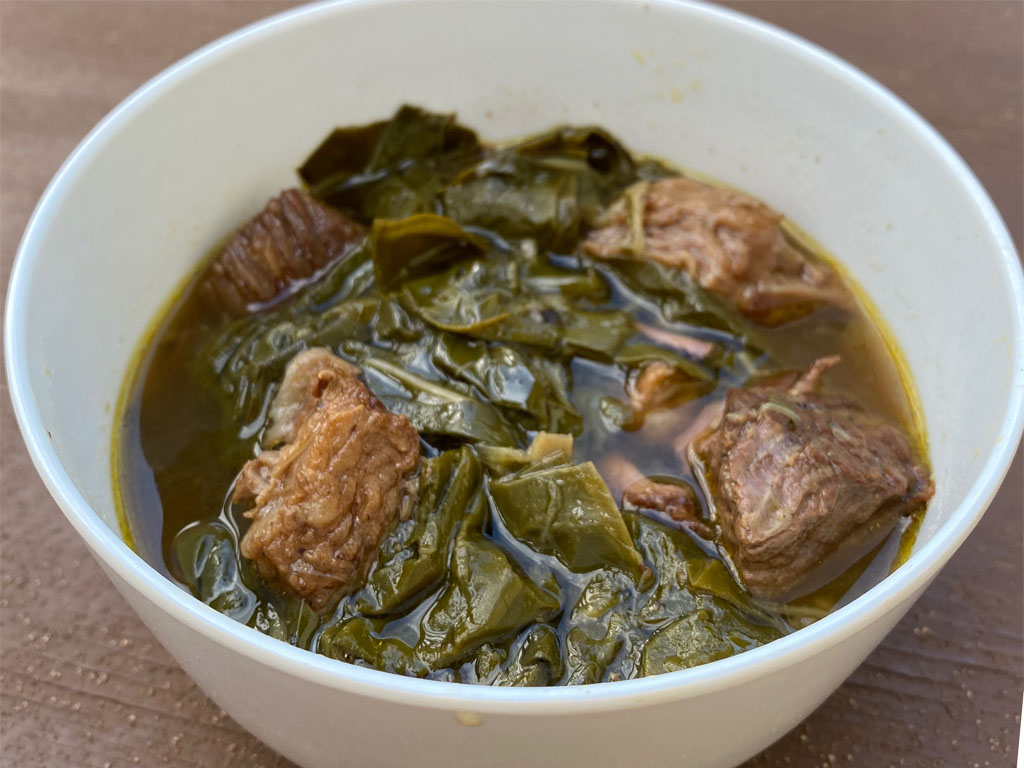 Ingredients
20

cups

Lūʻau, taro leaves, raw

1 ½ cups + 8 tsp

cups

Onion, julienne

3"

piece

Ginger, peeled, chopped

3 lb 12 oz.

Beef, chuck roast, boneless

2

Bay leaves

6 ⅔

cups

Vegetable stock

10

cups

Water

1 tbsp + 1 tsp

Salt
Instructions
Wash and cut stems of lūʻau then roll and cut into thicks strips, set aside.

Peel away the thin outer layer of the stem and cut into 1" pieces, set aside.

Julienne your onions. Peel and cut your ginger into large chunks.

If using chuck roast, cube meat into 1" chunks. Then pat meat dry and salt.

Working in batches so as not to crowd the pot, brown meat on both sides to form a golden brown crust, then remove from pot and set aside.

Add onion to pot and cook for 1-2 min to lightly caramelize then remove from pot and set aside.

Deglaze your pot with 1/2 the amount of vegetable stock then add your layers:

a. ⅓ of the lūʻau

b. ½ of the meat and ½ of the onions

c. ⅓ of the lūʻau

d. the remainder of meat, onions plus the ginger and bay leaves.

Then top with the remainder of lūʻau.

Add remainder of stock and add water till it covers the top layer of lūʻau.

Cover pot an simmer for 2 hours. *If liquid level drops, add more water to keep top leaf layer covered.

Stir together and taste test your lūʻau for doneness.
Notes
L

ūʻau or taro leaves should never be consumed raw! You must cook them thoroughly before serving to break down the calcium oxalate found in all raw kalo (taro) products. Always test it before serving!
This recipe will typically take 1 hour in a pressure cooker or up to 3 hours on a stovetop. 
Pro Tip: Buy leaves in bulk, cool, allow to cool then store portioned leaves in the freezer!
Instapot Tip: You can pre-cook leaves on high for 15 minutes, and set aside for incorporation into the recipe, followed by 45 min on high pressure once all items are in the pot, This will help to fit everything in the pot more easily if making for a smaller group. 
Nutrition Facts
Beef Lu'au
Amount per Serving
% Daily Value*
* Percent Daily Values are based on a 2000 calorie diet.