Tofu Burgers with Mango Chutney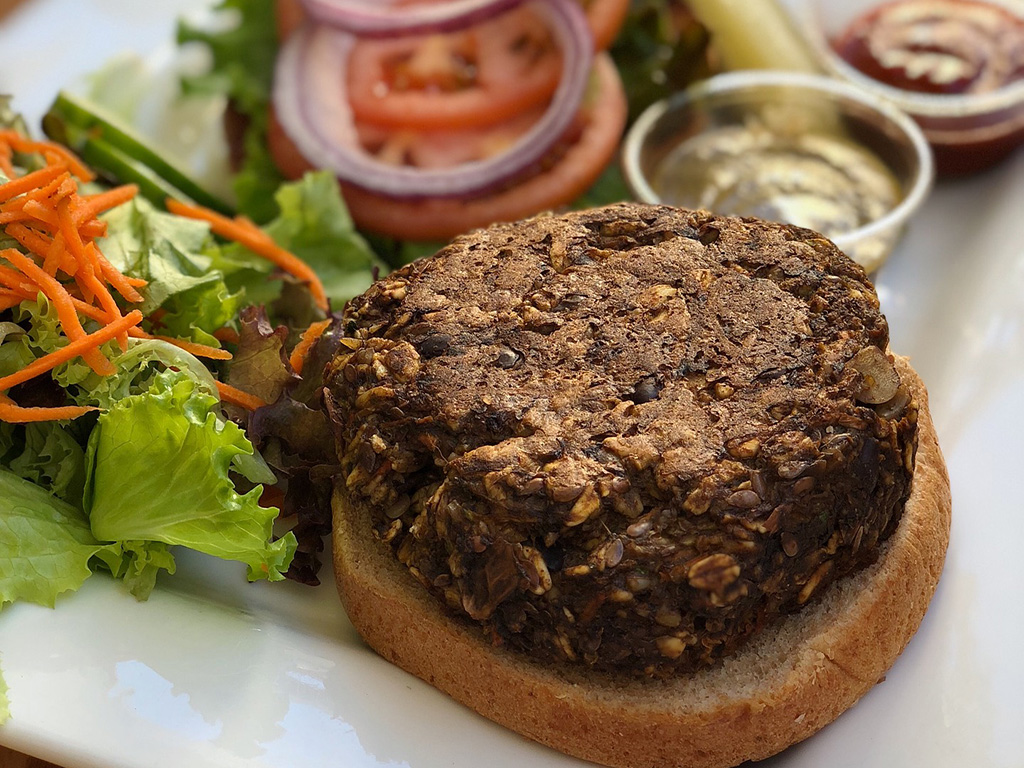 Ingredients
2

tsp

plus 1 tbsp olive oil

½

cup

onion, chopped fine

½

cup

mushrooms or zucchini, chopped fine

½

cup

celery, chopped fine

½

cup

carrot, grated

½

cup

red bell pepper, chopped fine

2

tbsp

Italian parsley, fresh, minced

20

oz

tofu, firm (drained and dried well), mashedtsp cayenne powder

1

tbsp

egg replacer, dry, with 2 tbsp water; or 2 eggs

1

tbsp

light mayonaise

1

cup

Japanese panko bread crumbs

½

cup

rolled oats (more if needed)

½

tsp

salt

½

tbsp

prepared mustard

1

tsp

cumin

½

tsp

curry powder

½

tsp

cayenne powder
Instructions
With 2 tsp of olive oil, sauté all vegetables including parsley, until soft.

Place in a large mixing bowl.

Add remaining ingredients and mix thoroughly. Add enough rolled oats to form a fairly stiff batter to form patties with your hand.

In a non-stick pan in 1 tbsp olive oil.

Turn after a few minutes to brown both sides.

Serve with Mango Chutney, if desired (see recipe).
Notes
Nutrition note: You can use up to 2 medium eggs, which brings the cholesterol level to 75 milligrams, which is within half of the DASH daily recommended limit. You may also use egg replacer if you don't wish to use eggs at all.
Optional: As an alternative cooking method, place patties on parchment paper-lined baking sheet, and bake 15 minutes each side or until lightly-browned and firm to touch.
Tip: For tofu lovers, these burgers are great served in pita bread or whole wheat hamburger buns, with a side salad. Fresh mango chutney (see recipe) tastes delicious on top, along with sliced cucumber, Manoa lettuce, and local tomatoes.
Substitutions: Firm tofu works best to bind the patty. If you can't find fresh mangoes, fresh peaches can be substituted. Vegan mayonnaise can be found at any health food store as a substitute for egg-based mayonnaise.
Nutrition Facts
Tofu Burgers with Mango Chutney
Serving Size
1 patty (6 oz)
Amount per Serving
% Daily Value*
* Percent Daily Values are based on a 2000 calorie diet.