Okinawan Sweet Potato Crisps with Salad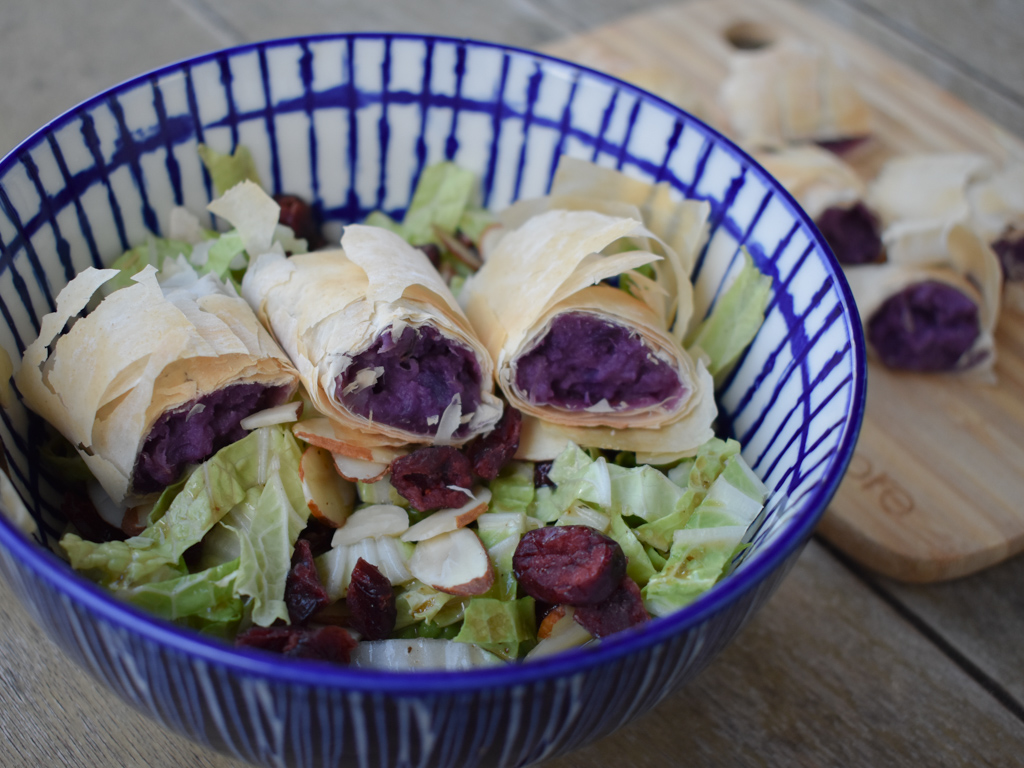 Ingredients
1

lb

okinawan sweet potato (or other firm fleshed sweet potato), boiled

1

oz

cream cheese, light

½

cup

milk, skim

12

sheets

phyllo dough

1

oz

almonds, sliced, toasted (4 tbsp)

2

oz

cranberries, dried (½ cup)

½

cup

salad dressing (favorite vinaigrette style)

8

cups

cabbage, Napa, shredded
Instructions
Mash sweet potato, stir in cream cheese and milk. Cool.

Pre-heat oven to 400 degrees. Spray a baking sheet with cooking spray.

Using 2 sheets of phyllo at a time, lay flat, spray with cooking spray.

Spread 1/3 cup cooked, mashed sweet potato in an even line along the edge of the longer side of the phyllo sheet.

Roll the phyllo sheet, starting from the side with the mashed sweet potato, tightly like a cigar. Cut in half. Transfer to baking sheet.

Repeat with remaining sheets of phyllo dough and potato.

Spray finished rolls with cooking spray.

Bake for 30 minutes or until brown. Cool on rack.

Toss almonds and cranberries with salad dressing and cabbage. Serve immediately.
Notes
*Keep phyllo covered with slightly damp paper towels to avoid drying out until needed. If not using within 2 weeks, wrap unused portion of dough well with plastic wrap and store in freezer. *The nutrition facts reflect the sodium level for a typical vinaigrette dressing found at supermarkets. If you make your own vinaigrette, the sodium level would be much lower and you can add your own mixture of herbs and seasoning to create variations.
Nutrition Facts
Okinawan Sweet Potato Crisps with Salad
Amount per Serving
% Daily Value*
* Percent Daily Values are based on a 2000 calorie diet.