Baked Lu'au Spaghetti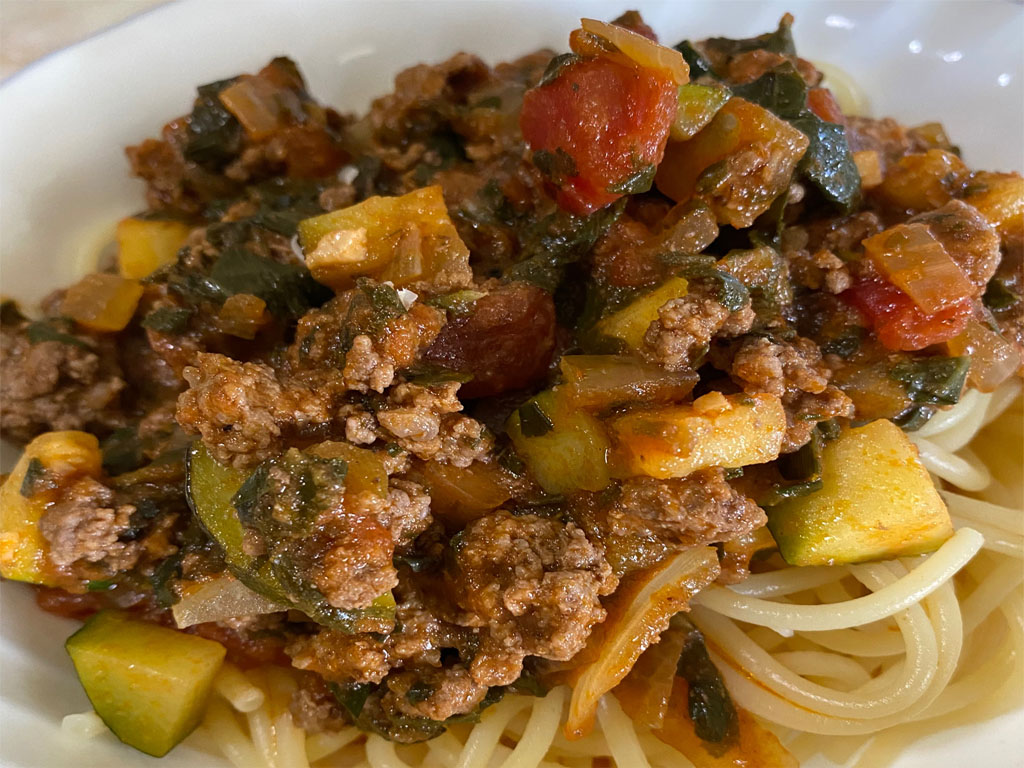 Ingredients
¾

cup

Red onion, diced

¾

cup

Zucchini, diced

1 ½

cup

Lūʻau, Taro leaves, cooked

8.3

oz

Diced tomato, canned, blended

1

lb

Ground beef, 80/20, raw

¾

cup

Cheese, shredded

4.5

oz

Whole wheat noodles, dry

1

Garlic clove

1

tsp

Salt

1

tsp

Pepper

1

tsp

Oregano, Basil, or Italian seasoning
Instructions
Fresh Lūʻau (taro leaves): Prepare in Advance!

Wash leaves. Cut stem just behind the leaf to remove. Chop stems into 1" pieces, set aside.

Stack leaves on top of each other, roll them up and cut into ½" pieces.

Place stems and leaves in a pot, cover with water, add a pinch of baking soda. Boil for 1 hour.

Drain excess water and allow to cool. Store in a sealed container in fridge for up to 3 days. Store in the freezer for up to 2 months. Allow frozen lūʻau to thaw then drain excess water before using.

Cook noodles according to the package. Blend canned tomatoes.

Sauté measured beef, red onion, zucchini and garlic with oil until beef is browned. Season with salt, pepper, and seasonings.

Add blended tomatoes and lūʻau, stir well and simmer for 10-12 min.

Add cooked noodles and stir until well incorporated.

Serve as is or transfer to baking pan(s) and top with cheese.

Bake uncovered at 350° F for 10 min or until the cheese is melted. Portion out dish to total number of students serving.
Notes
Pro Tip: Prepare lūʻau in advance and make extra to store in the freezer for future use! Raw lūʻau contains calcium oxalate which causes severe itchiness. Always cook thoroughly and test for doneness before serving.
Nutrition Facts
Baked Lu'au Spaghetti
Amount per Serving
% Daily Value*
* Percent Daily Values are based on a 2000 calorie diet.