Steamed Sweet Potato and Swiss Chard Dumplings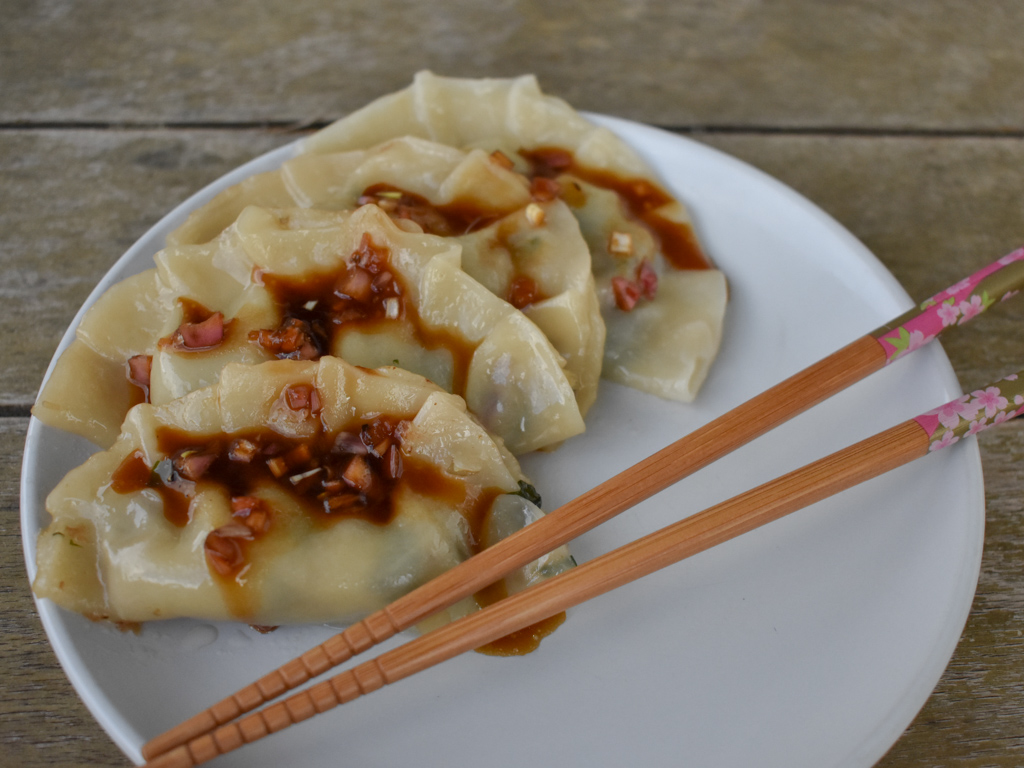 Ingredients
1

tsp

oil, vegetable

4

cloves

garlic, minced

8

oz

sweet potato, minced

8

oz

swiss chard, finely sliced

½

tsp

Chinese 5-spice

20

mandoo (pot sticker) wrappers

4

napa cabbage leaves

3

tbsp

basic Asian vinaigrette

1

tbsp

water
Basic Asian Vinagrette
1

tbsp

shallot, minced (about ½ oz)

2

tbsp

vinegar, balsamic

½

tsp

ginger, fresh, grated

1

tsp

sesame oil

1

tbsp

soy sauce

to taste, pepper, black
Instructions
Pre-heat a skillet medium high heat. Add oil and garlic, and potato, sauté briefly about 2 minutes.

Add Swiss chard and salt, cook till all liquid from chard evaporates.

Remove from heat, add Chinese 5-spice. Cool thoroughly.

Lay out wrappers in a single layer. Distribute filling evenly, placing in the center of each wrapper.

Dip your finger in a bowl of water and trace edge of each wrapper. Don't get wrapper too wet.

Fold over and firmly press edges together to seal. Repeat till filling is used up.

Lay Napa cabbage leaves on bottom of steamer. Place dumplings over the leaves.

Steam till tender, approximately 15 minutes. Serve immediately.

Add water to vinaigrette. Serve 1 tbsp sauce per person.
Notes
Dumplings can be frozen in a single layer. When completely frozen, transfer to a ziplock bag. Do not defrost before using.
The dumplings can also be cooked in boiling water: Bring water to a boil, add dumplings, and reduce to medium heat. Cook for approximately 5 minutes.
Nutrition Facts
Steamed Sweet Potato and Swiss Chard Dumplings
Amount per Serving
% Daily Value*
* Percent Daily Values are based on a 2000 calorie diet.